If you're unhappy with your smile thanks to chips, cracks, severe discoloration, or minor gaps, we can help! Bobcat Dental offers porcelain veneers as part of our cosmetic dentistry services. We use veneers to change the look of your teeth in virtually any way you can imagine, so the sky's the limit as far as your new smile is concerned.
What Are Porcelain Veneers?
Veneers are thin sheets of durable porcelain that we apply to the front sides of your teeth to change their size, shape, or color, or to cover minor cosmetic imperfections. We use veneers to correct:
Chips
Cracks
Small gaps
Minor shaping issues
Severe discoloration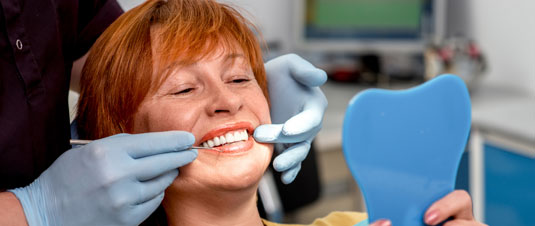 Process of Getting Veneers
The veneers process begins with a consultation. At this appointment, we'll discuss your goals for your smile with you. We want to know what currently bothers you about your teeth as well as what your dream smile looks like.
From there, we'll design that dream smile. Whether it's changing up the color of your teeth, covering up imperfections, or closing up unsightly spaces, we'll make it happen with veneers. We send the design to our lab to have the veneers created. Once they're ready, you'll come back in for another appointment. At this appointment, we remove some of the enamel from the teeth getting the veneers. That means this is a permanent process, so you need to make sure that you're ready for a permanent change to your smile.
Once the enamel is removed and your teeth are prepared, we bond the veneers to the front side of the teeth to complete your new look. You won't be able to help but smile when you see the change in your teeth!
Cost of Veneers
Financial worries shouldn't keep you from a dazzling smile. Our Community Dental Plan offers members great savings, even on cosmetic treatments like veneers, for one low annual fee.
Ready to schedule a cosmetic consultation and get started toward a whiter smile?