Behind the Smiles:


Meet the Bobcat Dental Team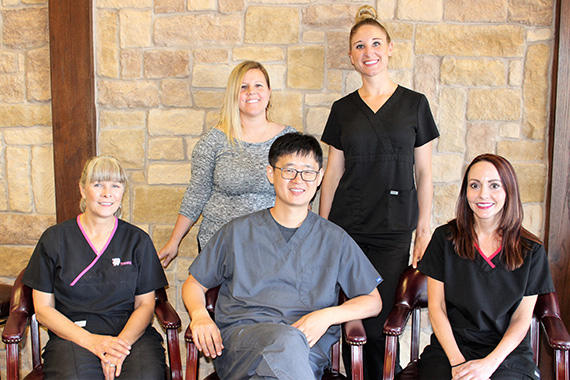 With decades upon decades of collective experience, the Bobcat Dental team not only delivers exceptional dental care—we also get to know you on a personal level so that we can tailor the details of each visit to put you at ease. And while we all have our specific roles to serve, a genuine caring and compassion for our patients is something we all share.
The Top Cat:

 
Dr. Dong Hyun Lee, DDS

Dr. Dong Hyun Lee (a.k.a. Lucas) graduated from the School of Dental Medicine at the State University of New York at Buffalo with his Doctor of Dental Surgery Degree. Dr. Lee practiced dentistry in Wisconsin as a general dentist for years before he moved to the Dallas-Fort Worth area.

Dr. Lee is interested in preventive and conservative dentistry. He researched microbiology during dental school, particularly how dental health is related to systemic health. He presented in 2010 at the American Associate of Dental Research convention on how oral bacteria can contribute to the causes of stomach cancer.

Dr. Lee finished many continuing education courses after graduation so that he could provide the best care to his patients. He has studied oral sedation and dental implants, and is always trying to learn the newest and best dental practices. This was evident even when Dr. Lee was still in dental school. He received two research scholarships during dental school, as well as an Omicron Kappa Upsilon Research Award. Dr. Lee also received the Dr. Earle J. Kelsey Memorial scholarship for good moral character, ambition, community involvement, and good academic standing.

Dr. Lee has been married to his lovely wife Anna for over 10 years, and they have 2 young children. During his free time, Dr. Lee enjoys spending as much time with his family as he can.

"I am so pleased when I see healthy and happy smiles from my patients. I pursue ethical and modern dentistry for my family of patients. I treat my patients as I would treat myself, my wife, my children, or my parents."
Make an appointment with Dr. Lee today!
Contact Us