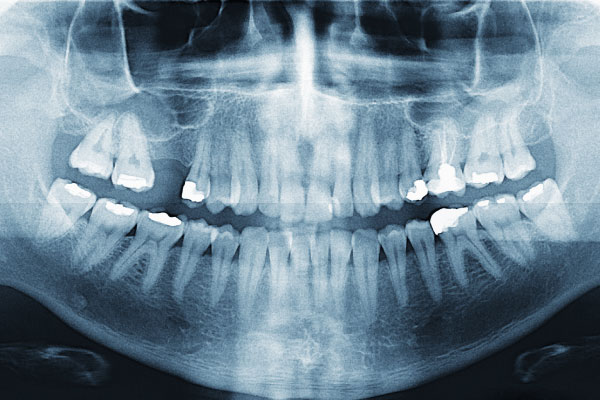 Can you remember the last time you had X-rays at the dentist? At Bobcat Dental, we believe that providing quality preventive dental care, such as regular exams, X-rays, and good dental hygiene habits, is what sets us apart. Although the frequency of X-rays depends on each patient and their oral health, you should be getting regular X-rays at your dentist. After all, we can tell a lot from a visual examination, but X-ray vision of your teeth gives us an almost superhuman ability to detect problems early, before they get serious!
When you set up your initial visit at our office, our team will almost certainly take X-rays as part of your first exam. This gives us a baseline we can use to measure your dental health moving forward. The three types of X-rays we use most often in our officer are bitewing, periapical, and panoramic X-rays. These three types give Dr. Lee a comprehensive view of your teeth – right down to the roots and bone that aren't visible otherwise.
Bitewing X-Rays
You've probably heard of a bitewing X-ray while visiting the dentist. Bitewing X-rays show the crown (top) part of your teeth. This birds-eye view of your teeth allows us to check for decay between your teeth.
Periapical X-Rays
These X-rays give us a good view of your root tips and bone height. We can determine whether you're experiencing bone loss, or if there are any other issues with your roots that he can't see normally.
Panoramic X-Rays
Just as the name suggests, panoramic X-rays show your entire oral cavity at once. Taken from outside your mouth, a panoramic X-ray will show all of your teeth as well as your jaw and sinus areas. This gives us a thorough view and can help us spot any impacted teeth, cysts, or other dental issues.
Routine X-rays will likely always be part of your dental care. Along with healthy habits like brushing and flossing, dental checkups and regular X-rays can keep your teeth health and your smile beautiful. Contact us to schedule an appointment at our office!